See the CLUB 100 Food Pantry in action!!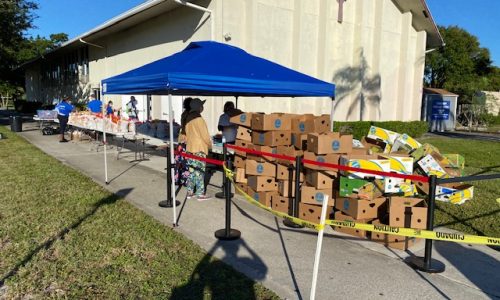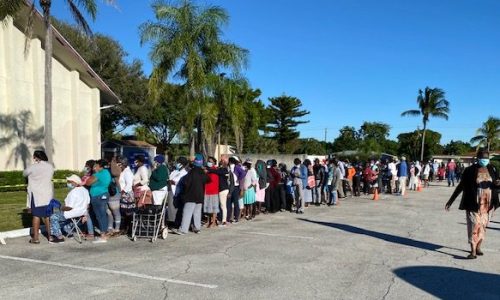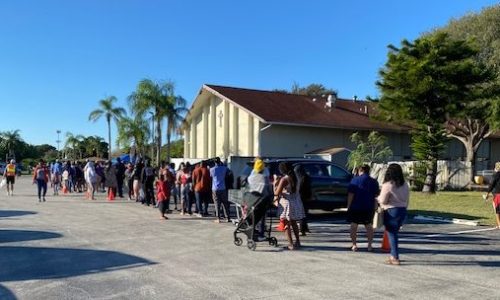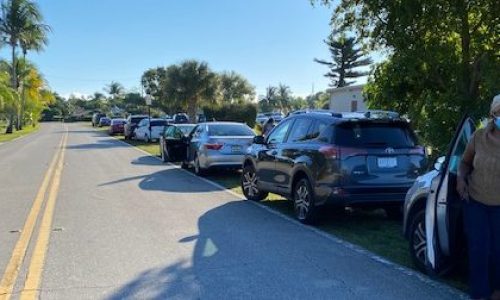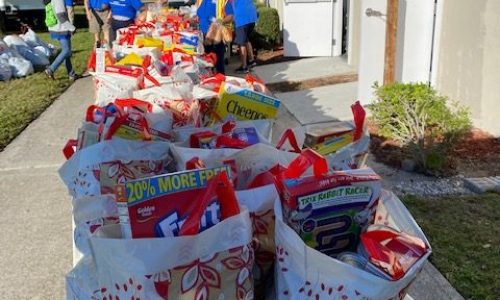 COMMUNITY FOOD PANTRIES IN LAKE PARK
The Community Food Pantry, managed by Club 100 Charities, Inc., serves the poor in the Lake Park and Riviera Beach areas.  There are 1,200 families registered, and we are helping over 150 families weekly.  To date we have gifted over 1 million food items. 90% of all the food items have been obtained through gifts from churches, grants, stores, schools and individuals.
The Community Food Pantry is in partnership at the Bethlehem Haitian Church, 325 Crescent Drive in Lake Park.  Their campus houses two sanctuaries which service three congregations. The pantry is open on Tuesdays from 9:00 am – 10:30 am.
Our Clothes Closet was opened at Bethlehem Haitian Church.  It has been a great hit and they are servicing around 150 families per week or gifting more than 3,000 items per week.
DROP-OFF FOR FOOD AND CLOTHING
Bethlehem Haitian Church – Tuesdays 8 am – 11 am
Holy Spirit Lutheran Church Patio Classroom – M-F, 9 am – 4 pm
If you have any major items to gift, please call for pick-up: 561-601-8211
BECOME A DONOR
The Food Pantry and Clothes Closet are mainly funded through the donations of food, clothes items and through fund raisers, foundation gifts, and cash donations.
WISH LIST FOR THE FOOD PANTRY   
Contacts on stores and companies that might be willing to help us as we expand
Food of all forms
Clean clothes, lap tops, and i phones not being used
Volunteers especially on Tuesdays from 7:30 am – 10:30 am
(If you have one hour or three please contact us.)
We accept donated cars and boats and the sale of the items are put into the food pantry account.
GIFTS TO THE PROGRAM   
If you would like to make a cash contribution there are three ways to help:
1.  Go to www.club100usa.org/join and click the MAKE A DONATION button. Designate your gift for the FOOD PANTRY.
2.  Send a check or gift card, payable to Club 100 Charities, to Club 100 Charities, P. O. Box 31682, Palm Beach Gardens, FL. 33420.
3. If you are a member of the Holy Spirit Lutheran Church and would like to contribute for the food pantry, make out a check to the church and mark it for the food pantry and it will be transferred to Club 100 for food purchasing purposes.